Excerpted from Julia Trigg Crawford's facebook page.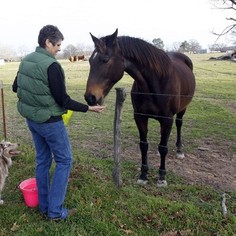 Crews from TransCanada/Michels/Universal Field Services and others I don't recognize started arriving yesterday in preparation for the destruction on our place. Within hours of their arrival the pasture inside "their" fenced in area was shredded, road signs designating "work area" went up, hundred of timbers used to support heavy machinery were unloaded from 18 wheelers and stacked, and most gut wrenching was the "blading" of our land by a trackhoe in preparation for even more heavy equipment. I've attached a photo of my land a few months ago and what I witnessed yesterday. I intend to share as much of this process with you as I can.

But just as the workers were really getting going, yesterday afternoon a monstrous wind and thunderstorm blew in, forcing all the men off their equipment, scurrying for cover in their nearby pickups. A sign perhaps?

I was told our place is the final link, the last piece of property needed to complete TransCanada's conveniently uncoupled and renamed Gulf Coast Segment of their Keystone Project. Furthermore, they will work 7 days a week if needed to overcome any delays, weather or otherwise. All eyes are on us folks, we really are The Last Stand.

Day one of Keystone's destruction of Julia Trigg Crawford's ranch

All this while our appeal is freshly delivered and active at the 6th Circuit Court of Appeals in Texarkana. Unbelievable. TransCanada's decision to move forward and initiate construction during our legal case just strengthens my family's resolve to continue fighting. We maintain, now more than ever, that they never had the right to take our land in the first place. Their claimed Common Carrier status? A rubber stamp handed out by the embattled Texas Railroad Commission. This pipeline? An interstate project, even the Railroad Commission says it is out of their jurisdiction. The product to be carried? Tarsands, a product mined in Canada, and one of the most toxic and destructive products borne by Mother Earth. Just ask the residents in Kalamazoo and Mayflower what it did to their communities and waterways when it could not be contained. And sadly ask the First Nations in Alberta how is is destroying their lands and lives.

I hear the beeping of heavy equipment being moved, I guess they're back at it already today, so I'm headed out to watch and take more photos. If you thought I was a mad and motivated landowner before, well, you're about to see me hit a new gear. Stay tuned.
We'll keep you updated about her appeal and the work on her land.