NOTE: Please stay safe and take precautions to protect yourself and your family from Hurricane Harvey. Resources are available at https://www.fema.gov/hurricane-harvey.
Harvey is the first hurricane since Ike in 2008 to threaten the Texas Gulf Coast. Warnings have been issued from "Brownsville to Beaumont" and Governor Gregg Abbott has issued a preemptive disaster declaration for 30 Texas counties. As Texas braces for the storm, Harvey is a stark reminder that the Gulf Coast is vulnerable to severe storms and the impacts of climate change.
The specter of climate change looms over any severe storm forecast today. We can't ascribe a particular storm to the effects of global climate change, but we do know that climate change may be responsible for an increase in Hurricanes in the Atlantic. Harvey is a reminder that the Texas Gulf Coast,  must prepare for the impacts of climate change.
Some of the doubt about the real risks of global climate change has been sown by leaders of industry. The accusation that "Exxon knew" about climate change decades before it admitted the risk to the public was recently bolstered by research published in Environmental Research Letters. The research supports the conclusion that ExxonMobil willfully hid research conclusions about climate change from the public for many decades.
Whether or not ExxonMobil publicly admits the risk of climate change, the company would do well to prepare for its effects. ExxonMobil operates the second largest oil refinery in the nation, the Baytown Refinery and Complex, with a daily capacity of 560,500 barrels.
Harris County places portions of the ExxonMobil Baytown complex within the 100-year floodplain, shown below in light blue: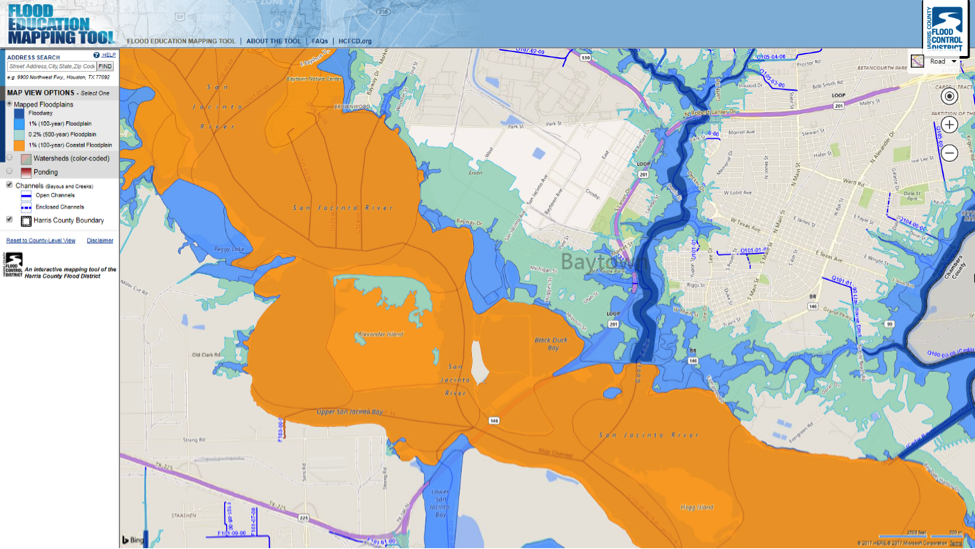 Comparing this map to the Google Earth map of the region, you can see a tank farm within the 100-year floodplain: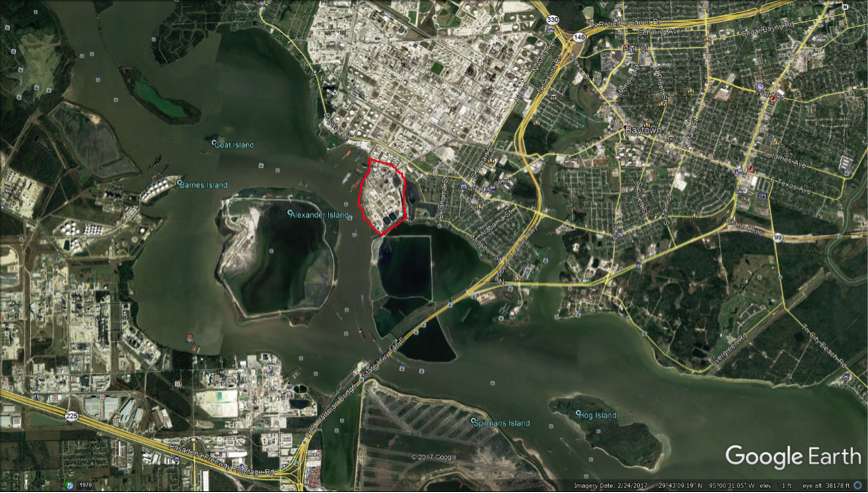 Zooming in on the outlined area above, we see perhaps three dozen tanks and two petcoke storage pits in the threatened area: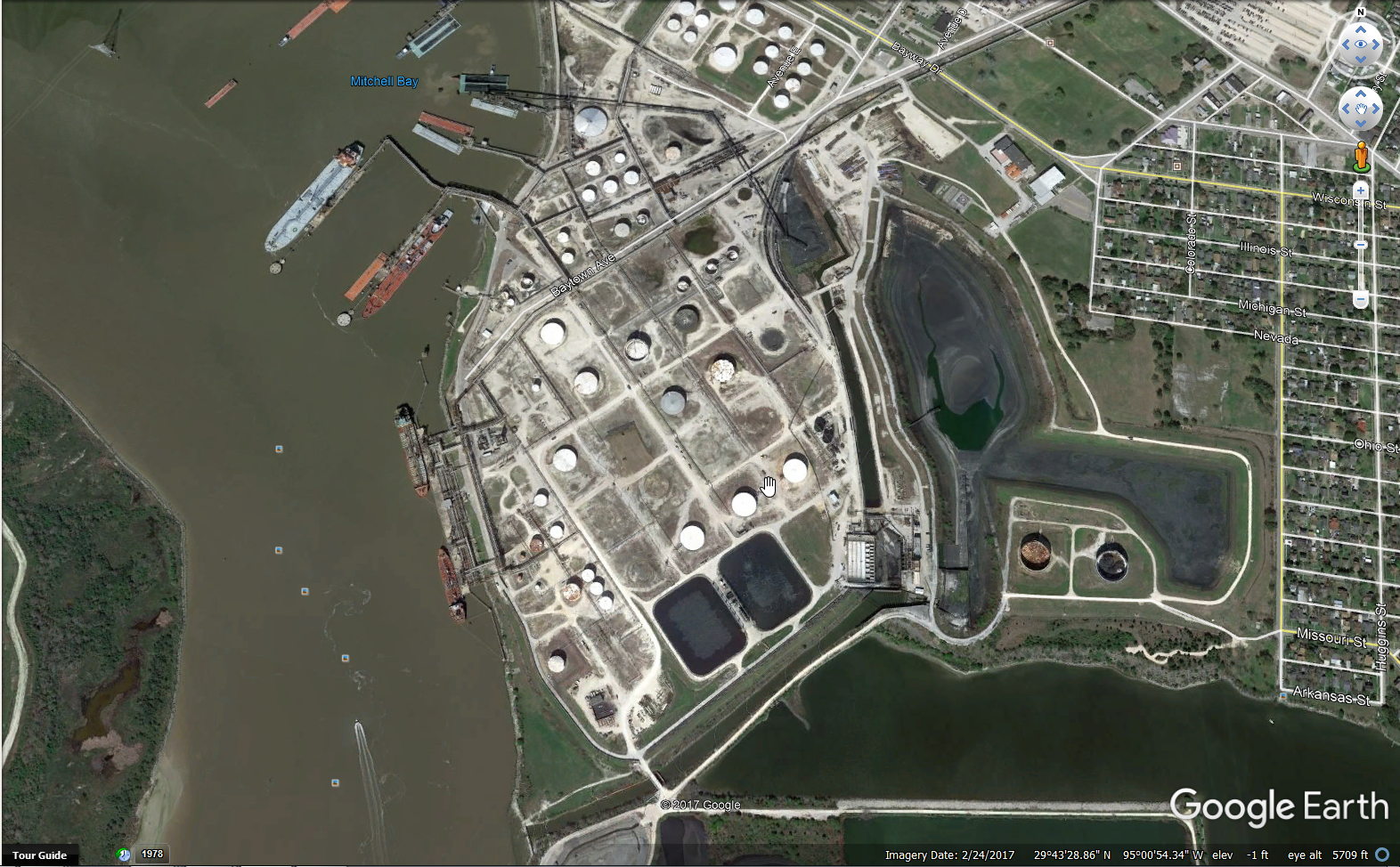 Research organizations in Houston have been modeling the potential impacts of severe storms on the Houston Ship Channel. At Rice University, the center for Severe Storm Prediction, Education, and Evacuation from Disasters has a model of the potential impacts of Tropical storm Harvey. The SSPEED Center predicts sea level rise of several feet in places (for now, no storm surge is predicted in Houston):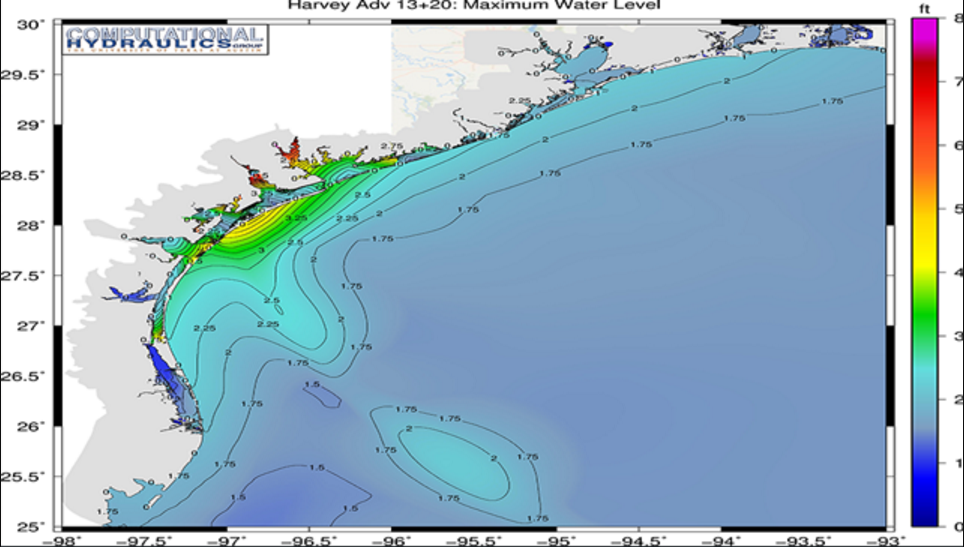 We don't know if this storm, or the next one, will finally tests Houston's resiliency. What we do know is that our nation's largest petrochemical complex is vulnerable to severe storms. We also know that climate change will make these storms more frequent, and more dangerous. If we do not prepare ourselves for their impact, we can only hope to recover from their consequences.
Again, please take all necessary steps to protect yourself and your family. Stay safe and visit https://www.fema.gov/hurricane-harvey.