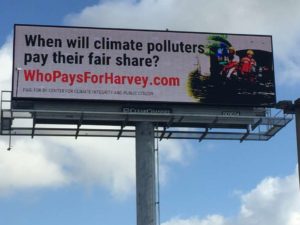 I wrote recently about the difficulty of "blaming" any particular storm on global climate change. I pointed out there that scientists don't usually reach conclusions in the form of: "X definitely caused Y." Particularly when complex global systems are involved.
That remains true, but research recently published in the Proceedings of the National Academy of Sciences makes a pretty strong claim about the link. Researchers assert that climate change made a storm such as Harvey six times more likely. That's a startling figure.
We are also gaining insight about the causes of climate change–more specifically, about who caused climate change. A recent report by researchers at the Climate Accountability Institute asserts that just 90 companies are responsible for two-thirds of all man made carbon dioxide and methane emissions since 1854. The report found that Chevron, ExxonMobil, and BP were each individually responsible for 2 to 3 percent of all carbon emissions for the period 1880-2010. Only the country of Saudi Arabia had a larger contribution, with more than 3 percent.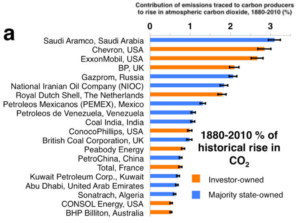 These recent findings lead us to one conclusion: if we know climate change is causing major storms, and we know which companies are responsible for climate change, shouldn't we start holding them accountable?
Harvey will cost taxpayers in excess of $100 billion. The City of Houston, the state of Texas, and the federal government have all committed millions to the cleanup effort. But it won't be enough. Houstonians are already paying for Harvey. When will climate polluters pay their fare share?
We launched WhoPaysForHarvey.com with our colleagues at the Center for Climate Integrity to ask that question? Together we've started a pledge that we're asking you to sign? Do you believe its fair for the entities that caused climate change to pay for its effects? Do you think fossil fuel companies have gotten off the hook, despite knowing for decades (#ExxonKnew) about the harm they were causing?
If you agree with us, please sign our pledge. This won't be the last severe storm Texas endures. It's time we started planning for the future, instead of rebuilding the mistakes of the past.